Throughout every season we take notes for improvements to make when Bayview Cabins is quiet in the colder months. Things to buy, paint, repair, look into – some are easy, and others take some serious doing. In addition to all the new equipment, furnishings and the like that we have in place for our 2017 guests, we also have an on-site LAUNDRY!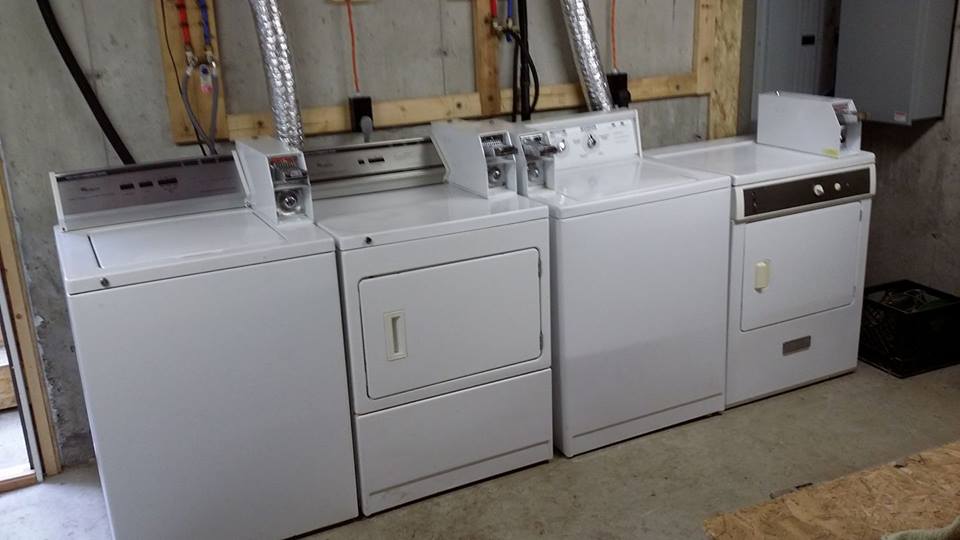 Certainly no one should HAVE to think about, or do, laundry on vacation – and we fully endorse that concept. But with the closest laundromats a good distance away in neighboring towns, we know that some of our guests will be delighted at the opportunity to take care of this chore right here on the lower level of the Guesthouse building.
For those who can throw it all in the trunk and deal with it at home, great! But we have lots of visitors making a stop here on Brandy Pond that is part of a much longer journey, folks arriving from a week of tent camping, or on motorcycles where the space to carry is very limited. Not to mention YOU, the one who spilled the melted butter in your lap at the lobster dinner you otherwise enjoyed so much! With all that in mind and many questions answered at the office, we have taken action — two coin-op washers and dryers, open during office hours. Quarters and laundry soap pods will be available for purchase in the office too.
So now our Bayview Cabins guests can take care of essential laundry while sitting on their porch enjoying the view. We look forward to seeing you soon, in clean or dirty clothes!