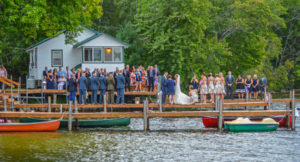 It's that time of year – repeated snows, occasional ice and bitter cold mixed with a few pleasant surprises of sunshine and warmth. The "quiet season" for most of the lodging industry here in Maine. But we are also right in the middle of "the big question" season – that's right, either around the holiday season just past, or that most romantic day just ahead in the middle of February, people get engaged!
And while we are happy to hear from everyone dreaming (and reserving!) for their summer vacations, we hear from a lot of excited brides (and grooms, and parents) to keep us busy into the early Spring. Congratulations!
Last September we were privileged to host a beautiful autumn wedding here at Bayview Cabins. And yes, she had a little inside edge – we've known the bride since she was born, and her parents for a long while before that. But that didn't change the scope of planning and arrangements needed for their most-important day.
Some important notes about getting hitched here:
Bayview Cabins can accommodate 36-40 people for onsite lodging, with several options nearby including B&Bs, motels & lakeside home rental for larger families or groups.
We are familiar with and have worked very closely with local vendors including tent/party rentals, catering, greenhouses & entertainment. We've also got a solid list of things that logistically do or don't work on the property.
Our wedding package includes the use of the hall, which is perfect for a "farewell breakfast" which can be catered on site, and of course as emergency bad weather backup (but it won't rain on your wedding day!).
Rehearsal dinner or other gatherings can be arranged on the Songo River Queen, next door at Merced's, or at Brays Brew Pub or Freedom Café among others.
We will work closely with you to help make your special day a memorable one!
Words from Colleen, our special autumn bride –
We had our wedding ceremony and reception at Bayview Cabins last September, and it was all that I had hoped it would be. With lots of family and friends from away, we rented the entire facility for three nights (a must!). The days were spent setting everything up, checking all those last-minute details, and hanging out by the lake or out on boats.
One of many things you worry about when planning a destination wedding is that everyone will have fun. There was absolutely no shortage of that, and Bayview was the perfect location with lots to do in the immediate area, nightlife, and walking distance to great restaurants including for our rehearsal dinner.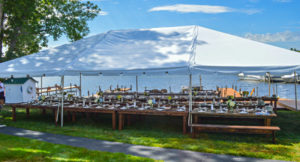 We wanted to make our wedding as memorable as possible for our family and guests – and it was that and more. Bayview Cabins was the perfect location for our event. Everyone was so impressed with the charm, those super-clean cabins, and of course Brandy Pond. Thanks Sherri and Steve, I cannot say enough about your patience and awesome willingness to accommodate this bride!
Check out more images of this special event at in our Photo Gallery, and give us a call (207-693-6831) to talk about YOUR exciting plans!